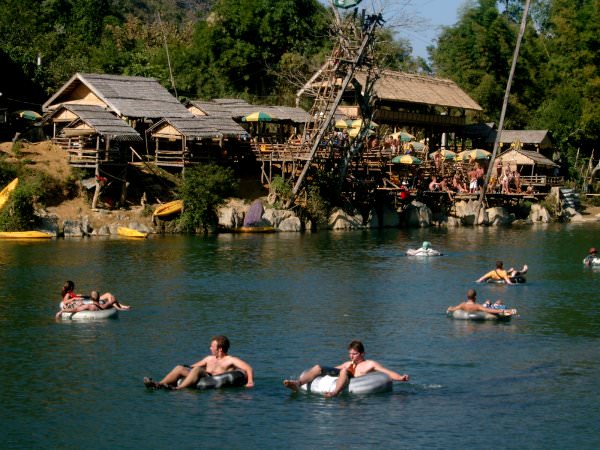 Some short term bad news for Teacher Bert's life but probably a positive for the rest of mankind. As of now, tubing in Laos has essentially been shut down. Tubing in Vang Vieng has become a crazy popular backpacker party where you can rent tubes, jump off ropes and swings into the water. They say it is one of the craziest and dangerous parties around. Different stats say different things but I've read that last year alone 22 people died doing it and countless other people get serious injured by drinking too much, taking free shots of alcohol laced with opium and doing drugs while being around water and other insane party animals. It is probably a good thing to shut it down if it means saving dozens of people's lives.
However, I feel like this problem has gotten progressively worse and instead of monitoring the situation, dealing with bars that sell drugs or unsafe alcohol, shutting it down just seams easier. True, having backpackers getting out of control in your country, doing drugs and misbehaving gives us a bad rap to the citizens in Laos. However, doing this also hurts their economy and is an example of a few people who can't behave themselves ruining it for the rest of the group. My only real problem with this decision is timing. In 2 weeks, I have just over 22 days off to do whatever I like. Biggest things on that list were not working, Chiang Mai and tubing. This has put a mild damper on it. I have read that some people are still showing up for tubing but the laws have changed that people need to wear life jackets and tubing finishes at 6pm. How lame.
Not entirely lame
I've read that there is a conference in November and this is only a short term thing. I also read something about a Chinese factory being set up close by that might have some effect on the water. I don't know, or care really. I JUST WANT TO GO TUBING!
Video:
http://www.youtube.com/watch?v=RvP_N-QmfVc
News articles
:
http://www.theage.com.au/travel/travel-news/dangerous-party-town-vang-vieng-faces-clean-up-20120822-24lkr.html
http://news.ninemsn.com.au/world/8520588/tubing-bars-in-laos-shut-down-amid-deaths