I brought too much stuff; that's the thought that has been crossing my mind the most these days. It's like I've never travelled before because it's amateur hour travelling with Teacher Bert in 2017. At least in 2011, I didn't know any better; there's no excuse now. I have a massive bag, a gym bag and a day pack all filled to the top. I temporarily lost my $50 water bottle, had to make an immediate return to the hostel to get my wallet and I left my Polska towel at a hostel in Cartagena and didn't manage to get it back in time. I also think I lost like 70, 000 Colombian pesos the other night and I surely paid too much for my Colombian sombrero. Who is in charge around here?
Looking on the positive side which is apparently a thing people do, I've lucked out in terms of people I've met and having people to spend the last two weeks with. The last ten or so days has been spent with an American from Delaware who makes YouTube videos for all intense and purposes we will call Ben. I suppose it's nice not being alone all the time and having someone I can remark my witty comments to. Splitting cabs, eating food and wandering around with other human beings from North America is I gather better than doing it alone with my headphones. I find it a bit strange to travel this far to chill with people from Montreal but meeting local people who speak English and want to explore isn't the easiest thing to make happen. I knew everyone would speak Spanish here but I thought it would be at a higher level than it is. I have some serious Spanish learning to catch up to. Colombians are fairly friendly and I feel pretty safe but it's not like I'm blown away by either.
One thing that came as a surprise and I am not adjusting to is cold showers. On the list of things I despise, this is towards to the top. Granted, it's 30 plus degrees outside so I understand their reasoning but I'm a house cat. Food is decent and pretty cheap. Uber is available but not sure there's a drastic price difference. The stray dog situation reminds me of Thailand and escorts are everywhere which has a certain Asian feel to it. Highlight so far is the mud volcano day hands down. We booked a tour the night before, left at 10:30, walked up the "volcano" and this ensued:
Walking back down the steps after this potential religious cleansing felt like aliens learning to walk for the first time and learning about life on their new planet. While it was super touristy, it was an experience I've never even knew existed. There was also a baby in the volcano and she wasn't exactly enthusiastic about her current life situation. There are guys who take your picture for you, massage you, and ladies who wash you off after for a total price of 12, 000. I think the tour in total cost 70,000ish which is about $30 Canadian. After the mud had been washed away
and we felt like citizens of Earth, the bus took us to a pretty dope beach that was hands down better than the beach we took a day trip to before; playa blanca. Nothing inherently wrong with the first beach but it's massively popular and with limited room to get my Frisbee game on.
So after Medellin, we hit up Cartagena where we went to a few beaches and the volcano. Cartagena also has these party buses that take over the town at night. Several attempts were made to make the party bus a reality but it ended up being too long of a tour for too much money; finding the meeting point was also a challenge. This is what we missed out on: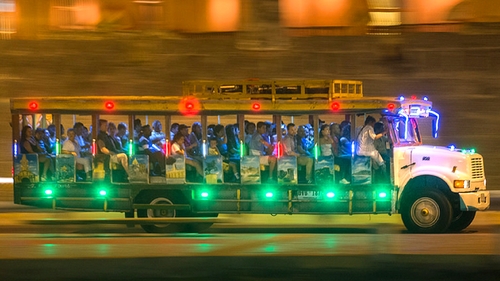 Cartagena has some solid street art, worthwhile hostels, a cool old town, a historic fort and good food: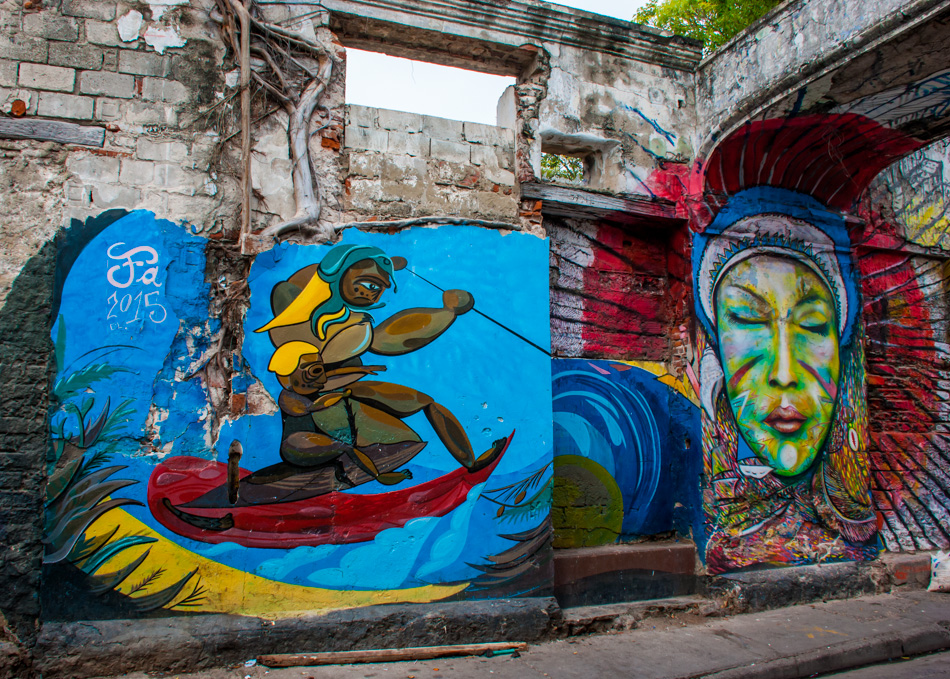 After Cartagena was Santa Marta. Whenever you are booking a mini bus or regular bus to another town and you are staying at a hotel or hostel, just ask them the best way instead of being a hero and doing it on your own. I booked our tickets online but apparently the bus station is a little far out of town so we could have gotten to Santa Marta faster and more conveniently if I would have just asked for help. It all worked out though and we spent the night here just hanging out at the hostel which is apparently a wind tunnel. I was also reminded on this trip that I remind people of Ted on How I Met Your Mother; I take this as an insult due to the fact that Ted is not cool and definitely a bit of a dud.
https://www.youtube.com/watch?v=d9Q-rW433l0
I have been interviewing with schools and have more set up. I've certainly been on the Gringo trail and excited to get off it for a little while. I'm headed towards the northern most part of South America tomorrow so should have solid pics and hopefully a tale to tell from that. I miss home more than I can remember but I think that's due to spending the last 6 months seeing my words can't describe cute niece and getting far too big nephew almost daily. Things seem to be coming together and should be clearer at the end of the week. I also hate Aaron Rodgers. I wish you an enjoyable third week of 2017.
https://www.instagram.com/bertbrandon/
"Whatever you do in this life, it is not legendary unless your friends are there to see it."