I'm sure since the moment I started posting here five years ago, you've all been wondering in the back of your minds "When is he going to finally give us some dating advice?" Wait no longer my friend, our time has arrived. Should you take dating advice from me? No, no you should not. Should you do the opposite of what I think is best? Yes, yes you should.
Things you should do:
I've been on one date with one lady in my dating career but I will try to pass on everything that I have learned in that time-span. First things first. Do something you haven't done before that you think would be fun or something you know you already love. Worst case scenario is you just did something you've always wanted to try or you did something you enjoyed even if the guy was a dud (see writer).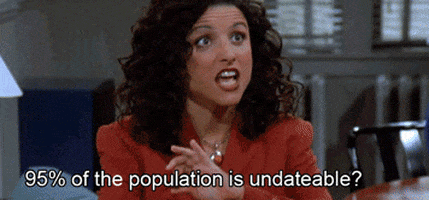 Don't be going on 9 hour thousand islands trips. Under an hour is the dream but no more than two. You theoretically have your entire lives to start annoying each other; let's keep the first one short and sweet.
I'm a fan of outside, having your environment help with the conversation and nothing too formal. Eat ice cream and go for a walk in the park or play Frisbee while listening to music and drinking a few beers.
You are there to have fun so…HAVE FUN! Let's face it, this person probably isn't the one but we can learn a few things from everyone who enters our lives. They know tons of things that we don't. They have at least one or two interesting tales or experiences that could enrich your life.
This might be more for guys because I feel like there might be more pressure on us to make a quality first date impression but try not to impress them too much. Be yourself and ask yourself, "Is this person actually legit or do I just want to hang out with them because they are good looking?" Just because someone is good looking or other people like them, does not make them cool. Don't be overcritical but look for things you like but be on the lookout for things that could become taxing.
If you haven't been hanging out with Teacher Bert recently, you have missed out on what I'm going to call Question Bert. I've developed and researched a variety of fascinating questions to use on first dates and in everyday life with people I'm forced to have small talk with. While people say it's not a job interview, essentially it is. I'm a BIG fan of questions but make it seem natural and don't pepper them with questions. Be cool but have a good 10 in your back pocket.
Remember things they say. What???? I know, right? People think it's important and rightfully so. You don't need to remember everything but remember what they do, a trip they have planned, their best friend or roommate's names, etc. I promise it will make greater strides than you spending $200 eating at a French restaurant for your first date. Another point, avoid going to restaurants but try to incorporate food because women love snacks/treats. There's a saying that says "It's not a date unless you split something." Do with that information what you wish.
Don't: (Oh boy. I'm going to try and not get carried away here)
Don't be someone you're not. If you aren't super funny, put the comedy routine on the back-burner. You aren't into sports? Put down the racket for now. People can see through what you aren't so embrace who you are but be open to learning something new.
Details. Details. Details. If you are a guy and you don't think she's going to notice that thing in your car, stain on your shirt or whatever little thing you are trying to hide, you couldn't be more wrong. Women have hawk eyes and attention to detail. Tighten up your game and get out there stud.
Punctuality. Be on time you monkey head.
Do I have to tell you to dress nicely, have good shoes and smell like a vanilla candle?
If you have a problem with losing and being somewhat competitive, DO NOT bring your date to a board game café. Just don't.
Don't take everything so seriously. Don't picture her as someone you might marry or blah blah blah. It will all work itself out so just try to have fun, make them laugh and if you go on a second date, build on what you've built on the first.
Don't kiss them. Whatever you do, don't kiss them. Oh, you are going to kiss her as she looks for her keys at the end of the night? Stop. It's too much for me. Don't kiss them on the second if we you really want my advice. When they think you're going to zig, you zag. Don't be like everyone else. Don't be predictable. People on dates are guessing what they think you're going to do next. Leave them guessing.
Meeting up with people and going on dates with strangers can be extremely awkward in a ton of different ways. One of the first dates I went on after being away was with this 24ish year old Asian girl I had met. We met up for lunch (try to meet up after work or at night) and had sushi. I wasn't really feeling it and I'm bad at faking interest so towards the end of the date she says "You don't meet many new people, do you?" Jab, jab, upper cut. My counter to that would be that I meet lots of people and I feel like I know pretty quickly where things are and are not headed. Maybe I go with that first impression too long but I think it's important to go with your instinct most of the time. I've personally have had enough for one year and am looking at 2017 with a high sense of optimism.
I think we make dating harder than it needs to be. If you want a simple, clear way to decide if you want to keep dating someone, I have the solution. Don't worry about ten years from now. Don't worry about next month. At the end of every date if you are thinking about seeing this person again, ask yourself "Would I rather see them or would I rather _________". If you'd rather do something else, that is not the wrong answer and maybe you shouldn't see that person again or maybe another time might work better. Just keep asking yourself "What would I rather do. Meet up or do my own thing or meet up with someone else?" I promise it will solve your problem. What would you rather do? Simple as that.
I will leave you with these two posts I've written previously
http://bertbrandon.blogspot.ca/2014_08_01_archive.html
http://bertbrandon.blogspot.ca/2013/11/why-do-we-hold-on.html
And a post from my main man Mark Manson. He sums relationships and other factors in our life as Fuck yes or no. If it's not a fuck yes, it's a no. Even simpler. Happy American Thanksgiving.
https://markmanson.net/fuck-yes
"Fortune favours the bold."