Someone's first Tuk-Tuk ride
Oh. Hello there, didn't see you come in. So. I'm in Pai. Obviously have stolen a picture from the world wide web:
Very small and laid back town. About 3ish hours from Chiang Mai. The van ride here was like a mini roller coaster. I'd bet my massive Thai teaching salary that people have for sure puked on that ride. Let's just say if you were in the van, you wouldn't turn to your friend and say this is probably what Saskatchewan is like. Staying at an alright place with my mom for 250 baht a night, definitely the cheapest room I've had to pay for. Weather has been outstanding since we left one of my least favorite cities. Bangkok. The only thing I really wanted to do in Bangkok was to watch the movie Moneyball in a theater. Love going to the movies and Moneyball is a pretty big movie so thought Bangkok might be good for something. It isn't. Ended up traveling in style to Chiang Mai with Air Asia, much better than taking a bus. The plan was to take a train but because of the worst flooding in 40 years, no train service.
Loved Chiang Mai, a lot of things to do, places to eat and things to see. Went to the Sunday Night Market: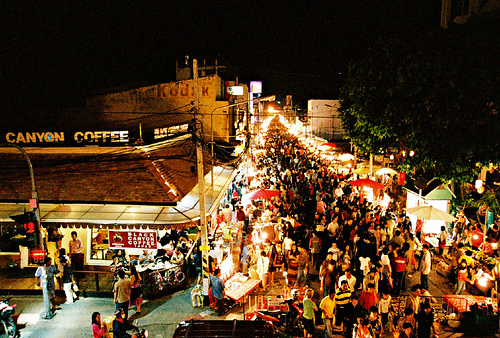 Bought so many great things and maybe a thing or two for teacher Bert. My mom will be bringing a wave of things home with her that some of you will be getting as Christmas presents. If you don't get something from the first wave, get the hint...just kidding...there will be many waves, I just have lots of people to buy things for and only one travel mule......for now. Did a cooking class with my mom just outside of town, took a train to get there, then a little bike ride, then picked out some ingredients for our dishes, made 6 different things. I ended up making spring rolls, cashew nut chicken, deep fried bananas (You'll never find one alone..) curry and other things. Here is photographic evidence:
This was our teacher. Pretty sure she loved me.
Welcome snack. I felt much more welcome after eating it.

First Pad Thai.

I'm basically an Iron Chef.
Went to the Night Bazaar market last night, bought more things for more people. Overall, trip with mom is a success so far, no rain makes Bert happy, not depressed about having to go back to work in a little bit, my kids are super cute and smart and I'm excited to see them again and the people of Nakhon. Oh, been getting tons of massages lately and got my ears cleaned by this lady and her candle. Ears have never been this clean.
And finally, today is Abim's birthday, happy 19th birthday brother: